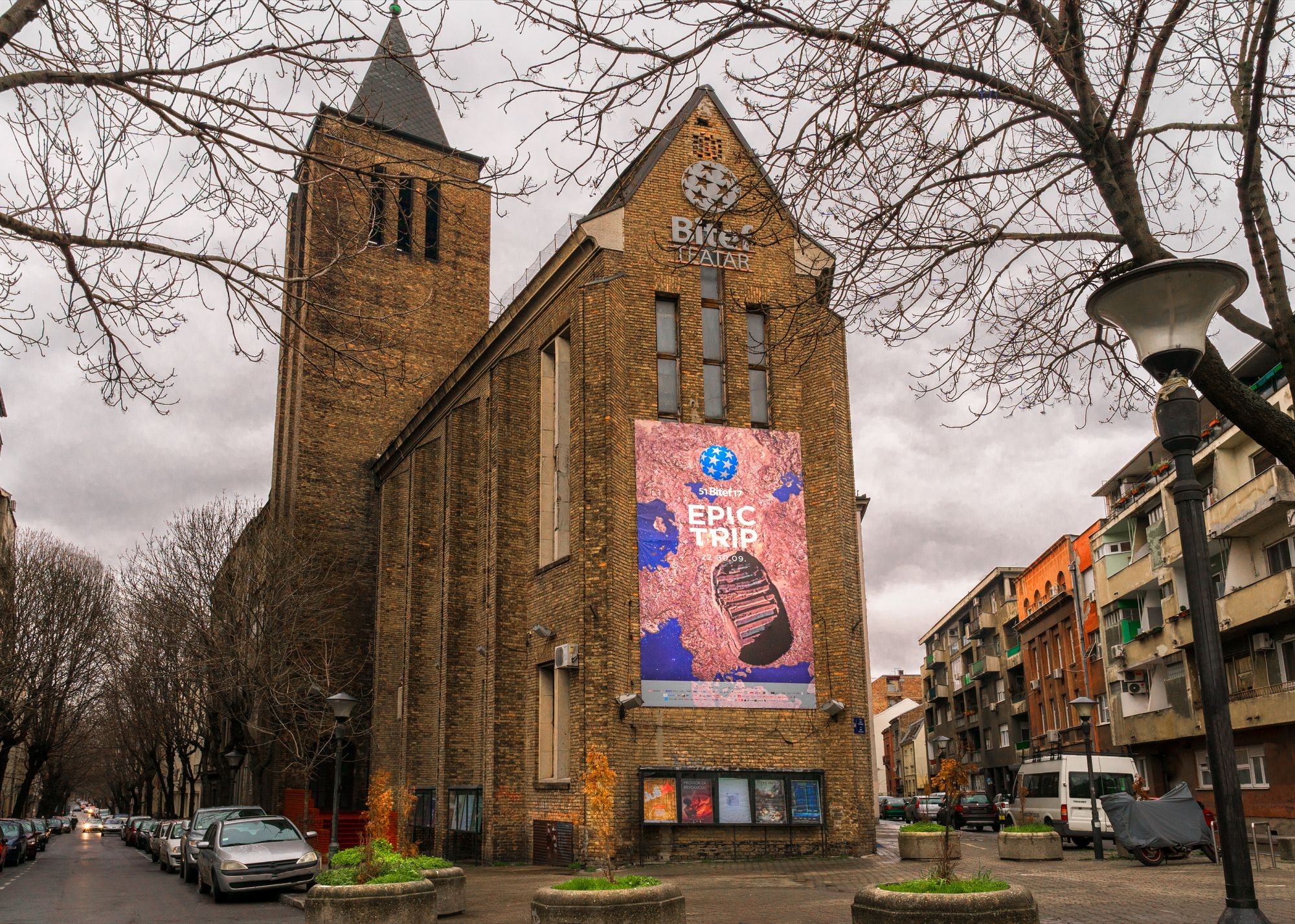 Bitef theatre has a close cultural and production association on several projects with Goethe Institute, French Cultural Institute, British Council, Italian Institute, Institute Cervantes and many others.
Bitef theatre is a socially engaged theatre, both politically and ethically. Inspired by the everyday and that which affects the daily life.
Bitef theatre shares the repertoire principles of Bitef festival, in the sense of striving towards the freedom of new forms in the postmodern plane.
Bitef theatre is a 'culture spot' at which the urban of the Capitol has been formed, styles of freedom have been practiced, a metropolis has been improvised. A theatre sprung between politics, rock 'n' roll and circus.
A theatre open for various strides of the genre, between music, video, dance and dramatic theatre in a narrow sense.
Over the 25 years of existence, a lot has happened. Bitef theatre grew though a fast and eventful youth, dealing with various theatrical possibilities, questioning theatrical devices and their limits. Intervening in life. Questioning the world that we live in, both in terms of form and content. Most importantly, it has continually persevered in defending its artistic freedom in the unyielding battle against kitsch and pastiche of all kinds, offering the bold and the new, the ready and engaged examination of day-to-day reality. It records the tradition of avant-garde and the continuity of the 'bitef-esque'.
Bitef theatre has put on plays by several renowned theatre directors: Ivana Vujić, Egon Savin, Gorčin Stojanović, Milutin Petrović, Abu el Rub, Nenad Prokić, Sonja Vukićević, Nikita Milivojević, Tanja Mandić Rigonat, Alisa Stojanović, Miloš Lolić, Ana Tomović, Iva Milošević, Stevan Bodroža and many others whose names can be found in the catalogue. Bitef theatre has promoted Serbian new writing over 25 years, staring with Nebojsa Pakjić and Brana Crnčević to Maja Pelević, Minja Bogavac, Filip Vujošević, Milan Marković, Tamara Bosak…
Bitef theatre has also promoted local choreographers, from Dejan Pajović to Isidora Stanišić, Dalija Aćin and several others who have collaborated in the past, and who are collaborating with Bitef dance company. Bitef theatre constantly features new world authors: choreographers, directors, writers. Bitef theatre has never cut its organic and essential bond with European theatre, in terms of production and aesthetic.
Bitef dance company, which is currently run by Jelena Kajgo, is an elite dance company, whose work is done under the wing of Bitef theatre. This is a company that has an authentic way of developing contemporary dance in the region, and has successfully worked with several international and local choreographers for the past five years.
Bitef theatre was founded as a result of a theatre festival that has always been the benchmark of the new, avant-garde, fresh, explorative, free and socially engaged in the local community.
Bitef theatre is a theatre that was founded, as is written in the founding statement of the founder, Ms Mira Trailović, for all kinds of stage performing arts. As well as all kinds of cross-genre relations between the basic forms: dramatic, dance, visual and musical stage practices.
Bitef theatre is a place of continuous open dialogue between the artist and the community, in both form and content. A living theatre in the socio-political reality, in which it exists with a leading educational role for generations of young performers and audiences open towards contemporary theatre trends and directions.
Bitef theatre is a top institution for the development of new, fresh theatre practices of this 'bitef-esque' kind, in other theatres in Serbia as well as the local region. Bitef theatre follows, encourages and is directly involved in the creation of this different, modern theatrical expression, especially in our country. It detects and nurtures the products of 'avant-garde tradition' which exists in Serbia even outside the Capitol scene. Bitef theatre ensures that these production can be seen in Belgrade, on the stage of Bitef theatre, as well as making sure that Bitef theatre productions are seen all over the country and the region. This means that Bitef theatre has been and will remain open to all kinds of co-productive collaboration with other theatres in Serbia, thus encouraging the formation, development and mapping out of this 'bitef-esque' theatre tradition.
The tradition of Bitef theatre repertoire is one of the possibilities of exploring different genre forms, in cross-genre combination, between dance and drama, drama and opera, video production as a new theatrical language, lecture performance, documentary theatre, verbatim theatre, art theatre… In other words, contemporary theatre forms created by combining and restating different modes and classical genres in stage practices.
Bitef theatre nurtures and encourages artistic freedom: the freedom of expression and the freedom of speech. It confirms the maturity of a social community, free to question itself and progress socially through a number of artistic practices.
Bitef theatre audience is an audience comprised of young intellectuals eager to discover new possibilities of form and genre in expression. That is why Bitef theatre dedicates special attention to the development of the youth scene. In that respect, collaborating with government and city organizations, as well as NGOs, we are committed to strengthening this scene. This is also done through the education of young people, young audience research, comprising a repertoire targeted at the constant participation of young people.